---

www.emfinfo.com

Lynn Connor currently co-owns COATS Office Automation and was a partner in Reliance Staffing & Recruiting for over 30 years. COATS provides fully integrated software to the staffing industry and works seamlessly with your staff to ensure software efficiency. Microsoft linking, Crystal Reports, a fully integrated CRM, payroll and complete accounting, online applicant entry, online job posting, and multi-state, multi-branch, multi-locality capabilities are available throughout the entire system. You can learn more about COATS here > https://www.coatssql.com Linked In: https://www.linkedin.com/in/lmsconnor/
By Lynn Connor | Tuesday March 14, 2023
---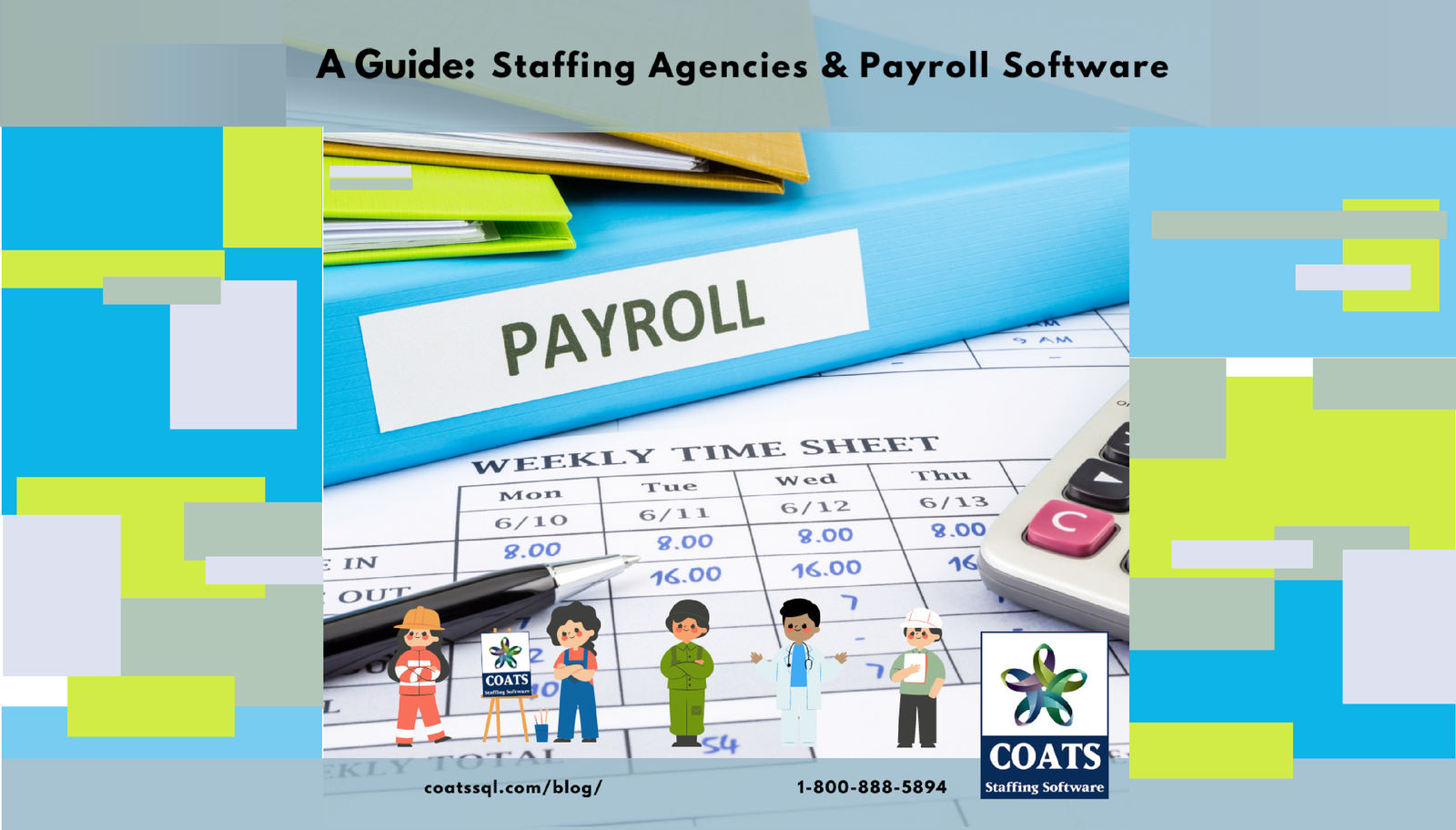 ---
Ask any staffing agency what's the top IT architecture for their company and a payroll management system will rank top of the line. Staffing agencies put more than three million people out on jobs each week. Given that staffing agencies are in the employment business, the payroll software solution they use is critically important to ensuring their employees are paid—as well as the company itself.
Heaven forbid, your agency still completes manual payroll. Human error can cause massive headaches in the payroll process, and nothing alienates your workforce faster than an incorrect or late paycheck! Only the smallest firms likely haven't automated their payroll management systems with a professional software solution.
The point is that any payroll problem isn't a minor issue. There are so many moving parts around compliance, taxes, deductions, benefits, and more that are increasingly difficult, if not impossible, to do your payroll by hand—no matter the size of your company.
How can payroll software systems designed for staffing companies alleviate the risks of payroll errors? This article will help you understand how these intelligent but easy-to-use solutions work and how they can help your business reduce payroll errors and improve efficiency.
What is Payroll Software Systems for Staffing Companies?
Payroll software systems for staffing companies are specialized to fit the needs of your industry. Payroll management systems offer features that cut or eliminate errors while automating tasks to speed up these critical business functions. Some of the specific functionalities of payroll software solutions include:
Time and attendance management: Time tracking is the 800-pound gorilla of the staffing world. Tracking employee time and attendance ensures your organization fulfills the terms of the agreement with your client. But this feature also ensures your employees are paid appropriately. Manual tracking processes are incredibly unwieldy, increasing the risk that this critical data will not be captured accurately. The best payroll software tracks time, attendance, handles time off, and more.
Payroll processing: Payroll software systems for staffing companies automate the calculation and processing of payroll to ensure your employees are paid on time. Payroll software systems can track wages and hours, calculate taxes and withholdings, and handle direct deposits without a hitch every time. These systems are even more important now that more workers than ever before are remote. Automation found within your payroll software can handle the nuances of city, state, and federal taxes when a contractor works across state lines.
Billing and invoicing: Many payroll software systems for staffing companies include billing and invoicing features that enable automatic invoicing. These features let you generate and send invoices to clients, track payment status from an easily viewable client-specific dashboard and manage accounts receivables. This is one way these platforms literally pay for themselves by making sure that you receive income faster.
Compliance: Say the word "compliance" to an HR manager, and it's sure to raise the hairs on the back of the neck. The truth about compliance is it is one of the most complex regulatory areas in our business. But a staffing industry payroll management system automatically handles changes to local, state, and federal rules around minimum wage, labor laws, overtime requirements, taxes, employee classification, and more. If you don't have an automated payroll software solution, the bigger your firm grows, the higher the risk that you'll get something wrong.
Reporting and analytics: Staffing agencies live by their numbers. Payroll software systems for staffing companies ensure you have robust reporting and analytics capabilities that capture key performance indicators (KPIs), profit and loss, and employee utilization rates.
A payroll software solution is a powerful addition to a staffing agency. But how does automated payroll software work?
How Does Automated Payroll Software Work?
Automated payroll software systems for staffing companies work by streamlining manual processes for calculating and processing payments. The specific functionality of these proprietary platforms varies according to the vendor you choose. However, the basic steps in the automated payroll process include some of these areas.
Staffing Payroll Software Helps Streamline Employee Data Management
The first step in a manual data process is to collect the data. When it comes to an employee, there's a ton of it, from the legal name of the worker to address, specific tax and withholding details, and of course, the hours worked. As staffing companies grow, capturing 100% of this information manually without human error is virtually impossible. But if you have a payroll management system, the data is captured and managed automatically and securely.
Payroll Software Automates HR Record Keeping
Automated payroll software allows employees to add time via an easy clock in/clock out system, as one option. The system portal allows for an employee dashboard where they can see their pay stubs and some allow employees to ask for time off. The data is used to run payroll automatically based on the hours the employee worked.
Payroll Software Generates Employee Pay Statements
Forget manual check writing. Payroll management systems collect and process hours against the employee's pay scale, taxes, and deductions. Withholdings are calculated automatically, and these systems are especially excellent at handling the myriad calculations that come with a dispersed workforce. For staffing agencies, the other complexity is the various work arrangements that happen in the staffing world. Payroll software systems for staffing companies can handle it all—from 1099s for independent contractors to W2s and more.
Payroll Software Solutions Handle Secure Direct Deposit
Securely transferring payroll funds to an employee's bank is no problem for these intelligent payroll systems. Automated features safely send digital payments straight into employee bank accounts. Or, the system may issue paper checks or pay cards, depending on your arrangement with employees and the software's capabilities.
Prepare Tax Forms with Payroll Management Systems
Payroll management systems help with tax and compliance management. Given the complexities of today's tax rules, handling withholdings manually is extremely risk laden. Payroll software for staffing agencies removes the risk by automatically withholding the correct taxes for each employee. The software may also generate reports and other documents necessary for corporate tax reporting.
Analyze Labor Costs with Automated Payroll Reporting
The final step and feature in payroll management systems includes analytics and reporting that allow staffing firms to track revenue, profitability, employee labor costs, and more.
Benefits of Payroll Software Systems for Staffing Companies
As you might imagine, automating your payroll software is widely appealing for any staffing company struggling to keep up with the volume of employees flowing in and out of their company each week. Manual processes for payroll or other HR functions can not only hold back your efficiency but can also create errors that cause great employees to leave or even cost you compliance fines. That's why staffing agencies turn to payroll management systems. The benefits include reducing the risk of human error and creating more efficient processes that ultimately keep your firm legal and professional.
Payroll Management Systems Reduce Errors
With automated and accurate payroll processing, the software handles everything from tracking employee hours to calculating payroll taxes and deductions. This significantly lessens the risk of human error. Even one tiny miscalculation could land you in hot water, and as you add more employees, the risk of manual payroll processes is exponential.
Improve Efficiency with Automated Payroll Software
How much time does your HR team spend calculating employee data, checking, and rechecking numbers, transferring data between spreadsheets, and manually writing checks? With automated payroll systems, automation handles manual tasks that are highly time consuming. These platforms even have an employee self-service feature that allows your workers to view pay stubs, request time off, or update their personal details. All these features end up significantly reducing the workload of your HR team. Imagine what your team could do with that time? Work on employee retention? Hire more candidates? Improve training? Automating payroll processes frees your HR team to focus on core business initiatives to help build your company.
Payroll Software Ensures Compliance
Staffing companies must comply with various employment regulations such as the federal Fair Labor Standards Act (FLSA) and state-specific rules for hiring and employment. Payroll software systems help staffing companies stay compliant with these rules. It's important to note that these regulations change frequently and vary by state and local regions. Payroll software keeps track of the latest regulatory changes, so you stay compliant even as the rules change.
Automated Payroll Software Promotes Transparency
The self-service portal on payroll software systems is incredibly helpful for answering basic employee or contractor questions about hours worked, pay scale, or vacation time used. This feature promotes transparency between you and your staff.
Payroll Software is Cost Effective
Your subscription to a cloud-based payroll software system pays for itself by reducing the time and resources required for payroll processing. This efficiency frees up your HR team for more mission-critical activities.
Partner with COATS Staffing Software for the Top Payroll Management System for Your Recruiting Firm
COATS is the nation's leading provider of automated payroll software for staffing agencies. We offer many benefits outlined in this article along with excellent customer service and a track record of serving the staffing industry. Our all-inclusive tools do more than payroll, we offer an applicant tracking system and mobile-friendly customer relationship management (CRM) tool along with accounting and billing software. We are a trusted all-in-one solutions provider for the staffing industry. If you'd like to talk about how we can help your business, schedule a demo today.